Musical Mash-Ups
Perhaps sensing that they might have to wait a while before getting the chance to host again, Portugal are going all-out to celebrate the full spectrum of their musical culture in tonight's grand final.
Fans of Portugal's national musical obsession Fado can look forward to the first-ever onstage collaboration between two superstars of the genre, Ana Moura and Mariza, during the opening ceremony. Meanwhile, interval act DJ Branko is joined by a bevy of local talent, including World Music superstar Sara Tavares who is returning to the Eurovision stage for the first time since representing Portugal in the 1994 Contest.
Salvador's Victory Lap
Salvador Sobral has had an eventful year — even by the standards of Eurovision winners. Having spent much of his time post-Eurovision waiting for, and then recuperating from, a heart transplant, he's guaranteed a hero's welcome when he is making one of his first major public appearances tonight. For his reprise of Amar pelos dois, he'll be joined by one of his personal musical heroes, the Brazilian singer-composer-guitarist Caetano Veloso, and there's unlikely to be a dry eye in the house by the end of their performance.
Emotional Moments
Salvador is not the only one providing potential tear-jerking moments in tonight's Grand Final. For some reason this year's auto-qualifiers are a particularly emotional bunch. France and Italy both present powerful messages about the human effects of global conflict. Germany's Michael Schulte and Portugal's Cláudia Pascoal deliver poignant songs about an absent father and a late grandmother, respectively. And Spain's Amaia & Alfred are either the image of love's young dream, or the most emetic three minutes of puppy-eyed pawing in this year's Contest, depending on your level of cynicism.
Audience Participation
Eurovision fans are among the most passionate in the world, and the savviest of tonight's performers are harnessing that enthusiasm and working it into their performances. The United Kingdom's SuRie gets a thunderous sing-along, Hungary go in for the full rock festival stage diving experience and France utilise the walkway to create a memorable image of collective unity. Even Slovenia's dramatic power outage is proving more effective than we anticipated.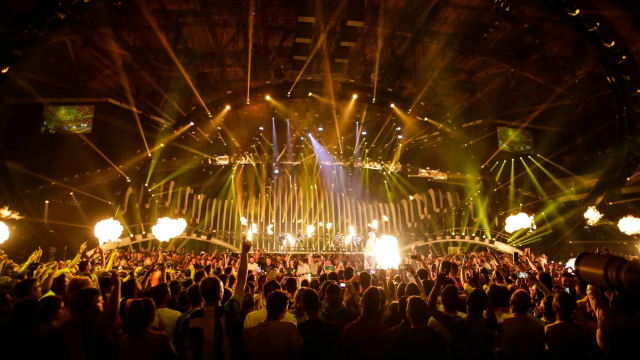 A Little History Lesson…
After a slightly ropey first show, the comedic aspects of this year's contest seem to be finding their groove. Filomena Cautela remains the standout among the hosts; her confidence and relaxed wit make her the ideal choice to work the green room. Of all the filmed sketches, the most memorable one is a self-effacing rundown of Portugal's less successful Eurovision efforts which mines their perennial underdog status for some big and unexpected laughs.
Nail-biting Results…
While you can never really take anything for granted at Eurovision, we can usually comfortably call at least two or three clear front-runners by this stage. But this year it really could go practically anywhere. Cyprus have the momentum going in, but Israel remain a huge standout, France have the most compelling story-line, Norway have the ear-worm, Ireland is the eleventh-hour dark horse. Unusually, the Contest is wide open, and the final televote reveal is likely to be one for the ages. See you on the other side.
Stay tuned to ESC Insight for a thorough analysis of the results online and on the ESC Insight podcast. Check out the latest version of the ESC Insight newsletter here, or subscribe here to receive regular updates direct to your inbox. 
For all the latest Eurovision-related news and analysis, you can also follow ESC Insight on Facebook and Twitter.