Return of the Rybak
Of the fourteen Eurovison winners to date who've risked returning to the Contest after their first victory, only Ireland's Johnny Logan has managed to do the double. While Norway's Alexander Rybak is currently tipped to possibly join that exclusive club, first Rybak has to escape tonight's Semi Final. His bouncy earworm That's How You Write A Song won't be to everyone's tastes, but it certainly makes for a charismatic and high-energy show opener.
Pyros!
They say three things are inevitable in this life – death, taxes and pyrotechnics at Eurovision. Boy, we have some pyro tonight. Norway kick off with fireworks, Georgia make the unusual choice to pair a sombre folk ballad with the ever-present 'Golden Shower' effect, Ukraine go full Love Love Peace Peace with a flaming piano, and Hungary practically ignite the entire stage. Aerosol cans are among the extensive list of prohibited items in the arena this year and we have a strong idea why.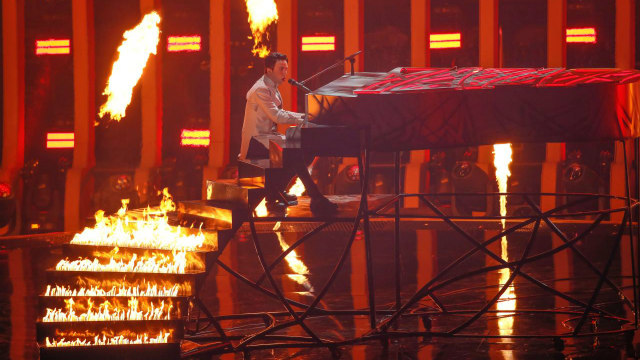 Moldovan Madness
After a few years in the wilderness, Moldova are truly back in their groove after last year's top three placing. DoReDos and their team have come up with a totally delightful (or bonkers) stage show for their turbo-folk banger My Lucky Day, which essentially plays out as a three-minute physical comedy sketch. If you don't end this performance with a massive grin on your face, you might just be watching the wrong contest.
Questionable Taste
While Moldova appear to have nailed the sweet spot between silliness and competitive spirit, several of their fellow entrants in this semi have made some very, very interesting choices in their stage presentations. The Russian decision to sideline Yulia Samoylova is a real disappointment as they provide extensive focus on her able-bodied dancers and backing vocalists. Waylon from The Netherlands is serving up awkward musical mid-life crisis with a leopardskin jacket and bizarre choreography.  Meanwhile, San Marino .. oh who are we kidding? Call it bubble fever, but San Marino's ludicrous dancing robots have totally won us over. Douze Points!
A History of Dance
So far, the inter-song comedy bits have not really landed this year. If the stilted sketches in the first Semi Final had you longing for a live fast-forward option, at least there is one genuinely funny interval piece in tonight's show as the hosts take us on a quick tour of Eurovision's most famous dance routines. Filomena Cautela's game attempt at Loreen's Euphoria choreography firmly establishes her as the MVP of this year's pack of presenters.
More Broken Records?
Azerbaijan became the latest country to lose their 100% qualification record on Tuesday night which leaves us with just three countries with a perfect scorecard. All of these countries are in tonight's Semi Final. Ukraine should be safe with a slick and dramatic show closer, but keep an eye on Russia and Romania. They should both have reason to feel nervous tonight. The former have a weak song and a misconceived performance, while the latter have an unenviable slot in the running order and barely won their own national selection back in March. Wherever you're planting your personal flag tonight, it's going to be a nail biter.
Stay tuned to ESC Insight for a thorough post-mortem on the results online and on the ESC Insight podcast. Check out the latest version of the ESC Insight newsletter here, or subscribe here to receive regular updates direct to your inbox. 
For all the latest Eurovision-related news and analysis, you can also follow ESC Insight on Facebook and Twitter.