A Taste of Portugal
Portugal is one of Europe's most picturesque holiday destinations, and they want to make sure everybody knows it tonight. From the opening montage to the postcards of the artists exploring cultural hotspots, the Portuguese tourist board can expect a boost in enquiries following this year's Contest.
Creative Staging
The decision to go without an LED Screen this year drew mixed responses from pundits, but the decision has forced the national delegations to get very creative in their staging choices. From Finland's spinning platform to the frankly ludicrous gothic gore of Belarus, you will have plenty of fuel for your annual Eurovision drinking games in tonight's show…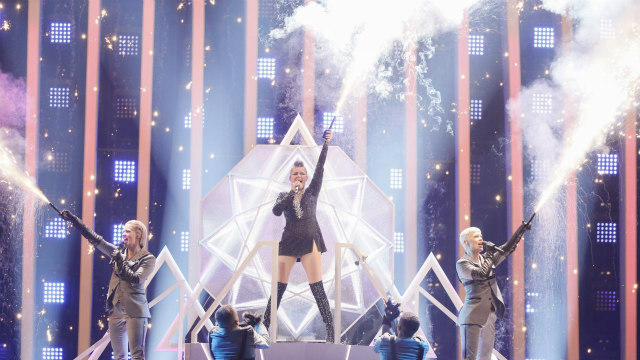 Something For Everybody
#CelebrateDiversity may have been last year's tagline, but it could easily be applied to this year's show. In this Semi alone you can look forward to Albanian Rock, Estonian Opera, a Belgian Bond Theme, Croatian Soul and .. whatever Macedonia's bizarre genre mashup can be filed under. You may not love everything, but you certainly won't be bored…
(Yeah, Yeah) Fire!
Bulgaria and Finland had early momentum, Israel took the lead as we arrived in Lisbon, but as we head into this first Semi Final, the word on everybody's lips is Fuego! Not only do Cyprus have one of the hottest performances of the night — in every sense of the word — but singer Eleni Foureira also delivered one of the funniest instant-memes of the seas in her politely deadpan response to this probing question about her lyrics. We don't know who the mystery journalist is, and we don't particularly care. All we know is that we'll be quoting the exchange for years to come. Fuego!
Questionable Comedy
Eurovisions scripts can be a hit-or-miss affair. Some years you get a masterclass in gentle self-mockery, in other years you're forced to endure a painful slog through awkwardly translated jokes that don't land. Portugal's hosting falls somewhere in between the two. The hosts are fluent and comfortable on the stage, but some of the sketches are somewhat strange – including one a truly inscrutable filmed piece apparently featuring the Go Compare opera singer playing beloved naturalist David Attenborough. Nope, we have no idea either…
Surprises
This is shaping up to be one of the toughest semi finals to predict in years with an almost universally high standard of performers. We have several perceived underdogs delivering strong performances and they might just push the expected front runners out of the way. Whatever happens, we can guarantee surprise, elation and heartbreak tonight…
Stay tuned to ESC Insight for a thorough post-mortem on the results online and on the ESC Insight podcast. Check out the latest version of the ESC Insight newsletter here, or subscribe here to receive regular updates direct to your inbox. 
For all the latest Eurovision-related news and analysis, you can also follow ESC Insight on Facebook and Twitter.