I'm guessing that when someone asks you where in the world wine come from your immediate thoughts go to France, Spain & Italy or maybe the countries that the wine world labels as 'new world', places like Australia, New Zealand and Chile.
But…
Have you ever tried Georgian wine? No? Well let me tell you about it and hopefully by the end of this, you'll be googling your nearest specialist wine shop to get some Georgian wine in your life.
Having studied wine for many years and achieved my WSET Advanced Certificate in Wines & Spirits and worked freelance for the Decanter World Wine Awards since 2008, I was already well aware of the beautiful wines produced in Georgia and coming to Tbilisi for JESC I couldn't resist organising a little wine tasting for some of my dear friends and colleagues in the press centre.
But first, a little history…
Georgia is proud to call itself the 'cradle of winemaking', claims that what we know today as a multi-billion dollar, worldwide industry began in Georgia are sometimes disputed amongst wine scholars but what is definitely known is that Georgian's have been producing wine for some 8,000 years (long enough to get it absolutely right!) In fact wine production and wine itself is completely embedded into Georgian culture, you simply cannot separate the two.
Fortunately for us this means that if you show even the remotest interest in the wines you will become immediate friends with a Georgian. I recommend that you make friends with a Georgian who happens to be the sommelier at one of Tbilisi's most sought after wine shops and wine academies. '8000 Vintages' is named in tribute of the 8000 years of wine production and celebrates the diversity of regions, grapes and wine producing styles of Georgia.
Our special JESC wine flight…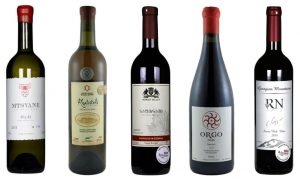 Did you know a group of wines being tasted is called a 'flight'? No? Well now you do!
Mtsvane
We began with a Mtsvane which is Georgia's principal white grape variety. This one is made in the international style; it is soft and fruity with hints of apple and soft citrus fruits like lime and grapefruit, there is a beautiful fresh acidity with a medium finish, on a Eurovision scale our team gives this wine 8 points. If you like Sauvignon Blanc, Semillon and Albariño then Mtsvane is going to be the Georgian wine for you to try.
Rkatsiteli (Qvevri)
This is probably the second most well-known of Georgia's white grape varieties, however this wine is made in the traditional Georgian style of viticulture called Qvevri, which is named after the clay jars used to make the wine. This is a more natural style of winemaking where the grapes are fermented in contact with the stalks, skins and seeds allowing the tannin to develop in the fermentation process and the grapes natural yeast to covert the sugar to alcohol. The wine is like nothing any of us have ever tasted before and in ESC points we give this wine a 5, not because we don't like it, but because it's so far off our wine radars we've got very little comparison. If you like more aromatic wines like Riesling, Gewürztraminer and Muscat then give this one a go, but be prepared!
Saperavi
You cannot talk about the Georgian wine industry without talking about Saperavi which is the queen of all Georgian grape varieties. Saperavi grapes produce a highly tannic, full bodied wine with flavours of cherry and redcurrant, this one is no exception. Saperavi can be altered in the wine making process and although the red fruit flavours are there the wine that we try has been aged for 6 months in French oak barrels so there is more complexity of flavours, there are now hints of vanilla, almond and butter through the wine. We love this wine, all of us – it gets the famous 12 points and Brent enquires as to how much it would be to ship a case back to Australia, that should be recommendation enough! If you like Syrah, Malbec and Cabernet Sauvignon then do your best to find some Saperavi, you'll be glad you did.
Saperavi (Qvevri)
The same grape variety but this time made in that old Georgian wine style that we had before, the flavours of cherry and redcurrants are still present but with the greener more earthy flavour that the natural yeasts bring to the wine. Again we don't have a reference in any of our collective wine back-catalogues so find it difficult to score this, we reckon it comes out at about a 6 points, generally we prefer it to the other Qvevri style but it's clear this style of wine does not sit too comfortably on westernised palettes. If you like more spicy aromatic reds like Carmenere and Shiraz then this might be up your street, but those are very loose comparisons.
Sweet Red
Made from Saperavi again (I told you this grape was important to the Georgian wine industry!) but this time as a sweet wine. Now, don't get put off; if your only experience with sweet wines are a bit of cheap Sauternes from your Nana's house believe me there is more out there to be sampled. This wine is a bit of an eye opener for everyone in the group. It has the flavours we've now learned to expect from Saperavi but this time the wine is allowed to keep some of the residual sugar and therefore is much, much sweeter than expected. However, don't be thinking that it's just like drinking syrup because there is more going on in this glass. There is balanced acidity, the tannin of the wine is giving it body and texture and the alcohol is beautifully wrapping it all in a warm finish. It's a very well-earned 10 point from us.
There's a whole lot more out there…
So that's just 5 wines and the shop itself carries more than 500 different wines, which is just a fraction of what is produced in Georgia. So now to more practical matter, where can you get it. Online the Georgian Wine Society (www.georgianwinesociety.com) operate mail order within the UK, Marks & Spencer (www.marksandspencer.com) have 3 Georgian wines in their selection, however two of them are the Qvevri style and only 1 is an international dry white; other than that find your local, independent wine merchants as that is where you are most likely to find Georgian wine in the UK.
And now I'm thirsty, someone pass me that bottle please!