With less than a fortnight until thousands of Eurovision fans start to descend upon the streets of Dusseldorf, its important to point out there is more to life than just the Song Contest.  The tourism board of Dusseldorf may be rubbing its hands together for the boom it will bring financially to the region with hotels, hostels and transport filling to capacity, but what about the other delights of Dusseldorf?
For many, this will be the first and possibly once in a lifetime trip to see the German city, and as someone attending the contest in a new city every year, you really should try to make the effort take in the sights and take in a little history and culture of the region for a more well-rounded experience. In this article, ESC Insight points out just a few of the things you can do to take a breather from the Song Contest…
Sights
Altstadt
The pedestrian narrow laneways of the old town form the perfect party central to either celebrate Eurovision or indeed try one of the drinking establishments in what is known as the longest bar in the world.  Not just for the alcoholics amongst us, you can also find many 17th century churches here for sanctuary, the old Town Hall and boutique fashion houses (to find that special outfit for the final).
Barbarossa Pfalz Kaiserswerth
The ruins of the 10-12th medieval palace of Emperor Babarossa set alongside the river sound like the idyllic place to gather thoughts and maybe have a quiet picnic.  Besides the palace ruins, there are baroque houses from the 17th and 18th century to wander through nearby.
Königsallee
Translated as the Kings Avenue, or known simply by locals as Ko, this mile long road is considered one of the world's most luxurious boulevards.  It has a beautiful stretch of water splitting its 85 metre width and is marked with statues and bridges.  Other than its optimal tourist-photo opportunity, this is the also the place to grab a coffee or a bite to eat, or simply window shop.
MedienHafen
Just two decades ago, this stretch along the river was marked by ugly disused factories and warehouses.  Following its rejuvenation a decade ago, it has now developed into an epicenter of modern architecture (including the increasingly famous Gehry buildings) and has become the capital of the advertising, arts and communication world in Germany.  Not all just about business, it's a fabulous area to catch a river cruise, or stretch your legs for walk or  a jog, for those who need a bit of fresh air and exercise after a hard night of drinking and partying.
EKO-House of Japanese Culture
Did you know that Düsseldorf has the largest population of Japanese people anywhere in Europe?  This centre now performs as a cultural exchange between the East and West, and gives the local Japanese community a place to gather and continue their traditions from back home.  It consists of a Buddhist temple, Japanese garden and tea room.  Here you can take part in special tea ceremonies or attend one of their special Buddhist festivals or traditional music events.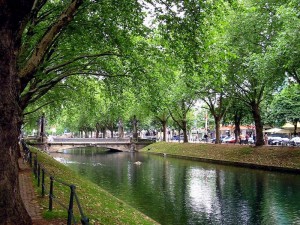 Museums
Filmmuseum
f you are more a behind the scenes kind of person when it comes to spectacle, you may want to check out Dusseldorfs' film museum.  This exhibition demonstrates the art of filmmaking and let's you get behind the camera to see how it all works.  The museum also features a small cinema showing classics and arthouse films in their original languages, so if you need to find some time alone in a darkened room, escaping the outside world, perhaps check out their program?
http://www.duesseldorf.de/kultur/filmmuseum/aktuelles/aktu_index.shtml
Goethe Museum
A possible mystery to most readers here, but Goethe was Germanys answer to Shakespeare.  As a young man he wrote poetry, books and letters that became famous throughout Europe, and his name lives on through the official German language school of the world – The Goethe Institute.  This museum features many of his original manuscripts and documents his life and loves.  Unlike the film I recently saw of his life, I'm led to believe he was more genius than drunk, and thus hope this museum sheds more light towards.
http://www.goethe-museum.com/
Rhineland Art exhibitions
Unfortunately modern art does not make me want to rock out, but it does leave me with some questions and thoughts. If you require some mind-expansion, or just a cultural fix, the latest and greatest of the Rhine and Westfalen area have put together a cross-city exhibition, focused at the Kunstakademic (art academy) to celebrate the Quadriennale
www.quadriennale-duesseldorf.de/kalender/
Other points of interest
Brauerei Schumacher
It's always important to get some local flavour on a holiday, and what better way than through the stomach?  This is Dusseldorfs oldest brewery, serving alt bier; the local beer and some fine traditional hearty German food.  If you want your fill of pork knuckles, sauerkraut and sausages and potatoes, this may be the best place to taste it without spending half your savings.
---
For more information on what to do and see in Dusseldorf, visit the official tourism bureau – www.duesseldorf-tourismus.de