When covering the Eurovision high season from the ground, it is very easy to forget that you are spending two weeks in a brand new city — potentially a place you might never visit again.
I jumped at the chance when Lisbon-based communications and consulting firm AMP Associates asked if I'd be interested in an all-day 'Best of Lisbon' press trip. Of course I was! The constant cycle of rehearsals, press conferences, and interviews, can make you oblivious to the world existing outside the Song Contest, but I do try to escape the press centre occasionally, and what better way to explore my new temporary home?
Starting at 11.am local time, the 'Best of Lisbon' trip promised us a packed itinerary of unique experiences lasting well into the night. As it turned out, after waiting over fifty years to welcome us here, the Portuguese had no intention of doing anything by halves…
11am
We began the day with a visit to the studio of Joana Vasconcelos, an internationally renowned Lisbon-based artist whose pieces have been exhibited all over the world. Her work carries a strong Portuguese flavour, particularly in her use of traditional crafts. One of the first pieces we're shown was a lace-covered television set screening the 1982 Eurovision Song Contest – a year that holds particular memories for the artist, due to the participation of the popular girl group Doce.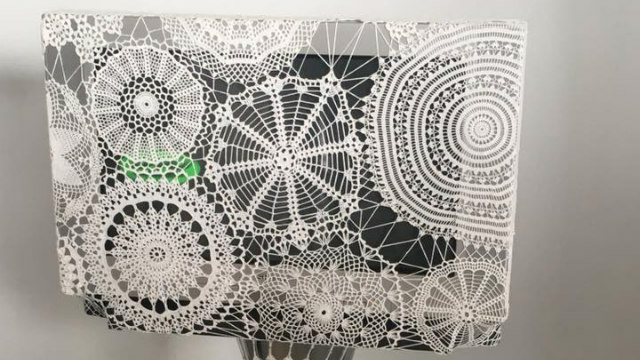 Vasconcelos explained that, as a child, she was disappointed that the sexy modern image of the group —  who were apparently rather groundbreaking as a sort of Portuguese proto-Spice Girls — was played down in the performance which saw them conservatively clad in crocheted musketeer outfits. However, she was inspired by the idea of Eurovision as an inclusive family event, hence the combination of the television with the lace — something which would traditionally sit decoratively on top of Portuguese TV sets, but which in the artist's piece covers the entire screen.
12.30 pm
After leaving Vasconcelos' workshop, we were shuttled down to the Lisbon seafront and the Museum of Art, Architecture and Technology (MAAT), where we were treated to a guided tour of some of their key exhibits for the current season. These included Tomás Saraceno's A Thermodynamic Imaginary – an immersive sculpture exhibition incorporating haunting use of light and shadow, and the collaborative project Eco-Visionaries: Art and Architecture after the Anthropocene, a multi-artist reflection on humanity's often destructive relationship with the earth.
2 pm
After a three-hour crash course in the Portuguese art scene, the assembled journalists were in dire need of refreshments, so we were relieved to learn that our next stop would be trendy local restaurant O Watt. They greeted us with delicious cocktails and served a mouth-watering seafood lunch prepared by acclaimed chef Kiko Martins.
As we sampled impossibly tender Tuna steak and steam-fried octopus, the drinks continued to flow – quite literally when I  managed to send my beverage flying across the table while animatedly distancing myself from the UK Brexit vote, a subject that my proudly European table-mates inquired about with a mixture of polite bemusement and curiosity. Never mix Portuguese wine and politics…
4 pm
With lunch inevitably running a little late, the tour walked off our collective alcohol buzz with a refreshing stroll through the heart of Lisbon, including a quick circuit of the city on one of Lisbon's famous yellow trams and a visit to the Sé de Lisboa cathedral — one of the city's most historic buildings.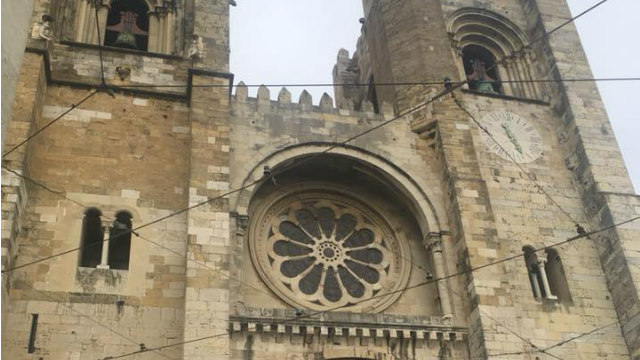 6 pm
Music is at the heart of cultural life in Lisbon, and if there's one genre of music the Portuguese enjoy above any other, it's Fado – a traditional style characterised by melancholic themes mixed with expressive and dramatic vocal performances. At the Associação do Fado Casto, rising Fado star Teresinha Landeiro graced us with a captivating private concert accompanied by guitar player Pedro de Castro, who also runs the venue.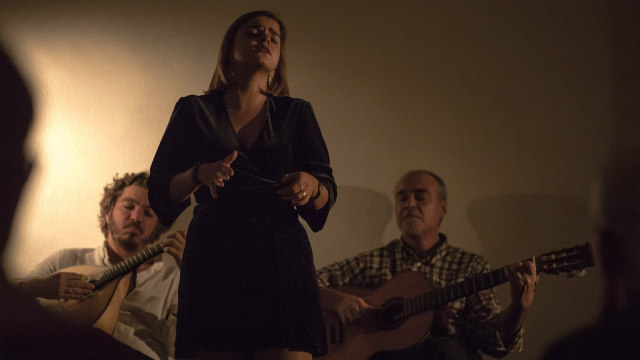 While the music enveloped us, we were fed a delicious mix of bread, cheese and cold cut meats that left us both physically and culturally sated. As Landeiro and de Castro wrapped up, we were informed that it's time to move on for the main meal of the evening. Oh…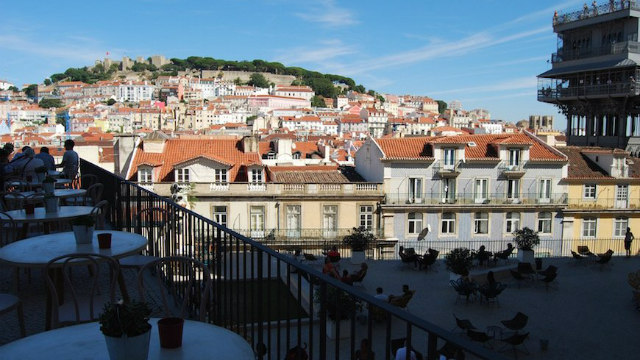 8 pm
As we entered hour nine of the tour, all of us were starting to feel a little lethargic, so a pit-stop at the gorgeous Topo Chiado rooftop bar boosted our energy levels. The bar offered stunning views of the city, film screenings, and, yes, more refreshments.
10 pm
At this stage we might be dangerously stuffed from the Fado club, but our hosts showed us no mercy. We were shuttled to the penultimate venue of the day, Olivier Avenida. Run by the renowned restauranteur Olivier da Costa, this luxurious Mediterranean restaurant served up dish after dish after dish of freshly prepared local delicacies.
As the fourth starter gave way to the first of two main courses, I began to quietly wonder whether I would actually survive this press tour…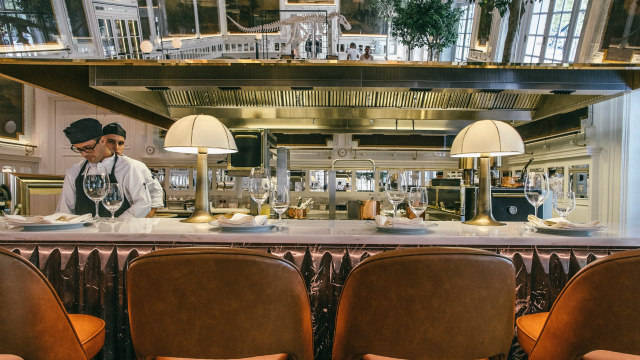 Midnight
13 hours in, and I was struggling to remember what life looked like before I started this press trip. Physically exhausted and mentally drained, I was more full than I had ever been in my entire life. And yet, having come this far, I was grimly determined to see things through to the final stop on the itinerary – a late-evening drink at the highly trendy JNcQUOI bar, across the street from the famous Cinema São Jorge.
Sadly, despite the name of the venue, Hera Björk is not in attendance, but the signature Mojito's more than make up for it. To mark the end of a truly eventful day, we raised a toast to Lisbon, to Eurovision and to the indomitable – if slightly intimidating – hospitality of the Portuguese people.
Saúde!