Disability will be in the spotlight at this year's Eurovision Song Contest thanks a number of entries from broadcasters. Finland and Poland will be the most visible, but that is not the end of the story… it's not even the beginning, as John Egan finds out while exploring the issues for ESC Insight.
In the end it was a commanding victory. Pertti Kurikan Nimipäivät (PKN) were equal third across the various juries, but garnered 36 per cent of the televote in Finland's national final – ten per cent clear of their nearest rival.  In fact, none of the other seven entries earned more than seven per cent of the televotes. A rather unambiguous result and one without controversy, one might assume.
Except that all four members of PKN have cognitive or affective disabilities, including Down Syndrome or Autism Spectrum Disorder. Since their appearance in (and qualification from) the first Finnish heat, allegations of a sympathy / pity vote have appeared in the Eurovision fanosphere. Some if it has been rather unpleasant. That their entry 'Aina Mun Pitää' ('Always I Have To') is a thrashing punk track, a genre not usually associated with Eurovision, has also drawn the ire of some fans.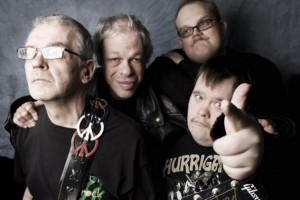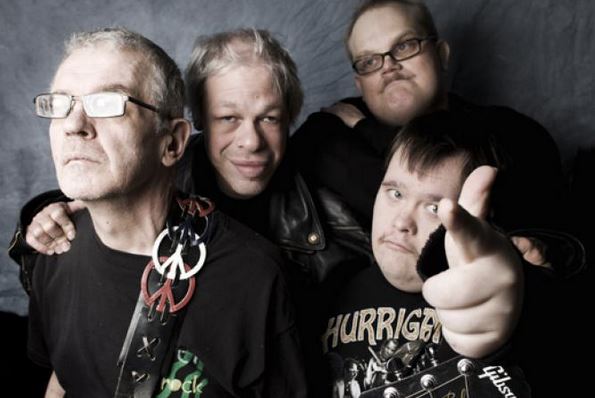 PKN won't be the first act featuring a person with a disability to ever appear at Eurovision. They won't be the only such an act in Vienna either. Before we focus on the reaction to PKN, let's take a look at the history of disability at the world's favourite Song Contest.
Visibility
First off: it is important to acknowledge that many more disabled persons have almost certainly competed in Eurovision than we could confirm for this article. Many who live with a disability only make others aware of their disability when they disclose having it. Someone with cystic fibrosis (CF)—like Bianca Nicholas, half of this year's UK duo Electro Velvet—might not seem disabled: certainly there's nothing obvious to that effect in the preview video for 'Still in Love With You.'
In fact, for many people living with disability, day-to-day (or hour-to-hour) circumstances might determine the extent to which their disability impacts their lives. Cystic fibrosis's breathing difficulties are perhaps its most well known manifestation, though it is a much more complex syndrome that can impact a range of systems. Whilst 30 years ago the prognosis for CF was poor, many with CF today manage the condition through various treatments. Bianca credits singing as part of her CF management: the technical requirements of professional signing strengthen her lungs.
For a television audience, how an act is presented can highlight—or hide—a disability. Poland's representative for Vienna, Monika Kuszyńska, is paraplegic, something that might not be apparent to a TV audience if she is not using a wheelchair onstage. In the preview video for "In the Name of Love" we see Monika looking at old photos of herself, in many of which she is standing or walking. We don't see Monika in a wheelchair until the last 15 seconds. It is an interesting tack for the preview video: it adds a wistfulness to what is in some respects an otherwise unremarkable entry.
So we know that three of forty acts in Vienna have a disability. As do approximately 80 million citizens of the European Union. With a tad more than 500 million citizens, that represents 16 per cent. Over the course of our lifetimes around half of us will experience a disability of some sort. Put in that context, three out of forty, or 7.5 per cent,  seems an under-representation. Statistically speaking, around 6 or 7 acts in Vienna should feature someone with a disability of some sort. In many instances, unless an act discloses their disability (like Bianca) we simply would not know.
In Sight
In years prior, the acts who were known to be disabled were mostly blind or visually impaired performers. Some wore darkened glasses; all of them required assistance getting onstage for their performance. Including:
Serafin Zubiri: Spain, 1992 'Todo esto es la música' (14th) and 2000 'Colgado de un sueño' (18th)
George Nussbaumer: Austria,  1996 'Weil's dr. guat got' (10th)
Corinna May: Germany, 2002 'I Can't Live Without Music' (21st)
Diana Gurtskaya: Georgia, 2008, 'Peace Will Come' (11th)
Of these only Nussbaumer finished in the top 10, though Gurtskaya came rather close. For each of these artists there were clear markers to indicate their disability.
Same and Not the Same
However, in discussing disability and the Eurovision Song Contest, we need to examine more than the frequency of disabled artists performing. Not all disabilities are perceived in the same way. Some disabilities are more stigmatized than others. Which is where PKN come in.
Few would argue that being blind or having a mobility impairment has much bearing on one's ability to sing. Or, to look at it in reverse: we are comfortable assessing the quality of an artists singing if they are blind or have a mobility impairment. Cognitive (how we think, reason, perceive or understand) and affective (how we process emotions) disabilities often carry greater stigma.
Down Syndrome ('Downs'), a genetic condition that impacts intellectual, affective and physical development. It also has its own externalised markers: persons with Downs have distinct facial features. Autism Spectrum Disorder ("autism") impacts affective and intellectual development, including impairments in social interactions. Many with autism have intellectual abilities within the 'normal' range—or even above normal; most living with Downs will have below 'normal' intellectual abilities.
But these conditions both impact the social experience, albeit in different ways. Some assume that someone whose intellectual ability is below normal is talentless. Some also assume that someone with poor social skills is stupid. In reality, often the social limitations experienced with folks like the PKN guys are more about others' prejudices and assumptions. PKN bassist Sami Helle spent part of his childhood in the US and is bilingual, for example. And the three musicians in the group can play, though like all other bands performing at Eurovision only their vocals will be live.
With whose discomfort or awkwardness are we dealing?
Building Bridges
Punk rock is not to everyone's taste: but then, neither are schlager or turbofolk. I am a fan of punk rock. PKN sounds pretty good to me: untidy, unpolished, coarse… very punk rock. If you don't like the genre, fair enough. But these guys deliver their sound live. Perhaps if they were singing in a language more commonly understood than Finnish their entry would be more accessible (ahem). But some of the hardcore Eurovision fans complaining about PKN are the ones who bemoan the erosion of national languages from the Contest.
PKN's appearance in Vienna—in fact, their winning Finland's national final in such a convincing manner and the subsequent global press that's followed—has given us an opportunity for something of a teachable moment. Rather than a more typical Eurovision one about peace, or love, or life, or tolerance or acceptance of difference, PKN's message is celebration of being different. Not tolerance, celebration.
It's also about the banality of everyday life:
Always I have to stay at home.
Always I have to do my chores.
Always I have to eat properly.
Not allowed to eat candy, or drink soda.
Not even allowed to drink alcohol. 
Messages–musical and more broadly–that I can certainly get behind.