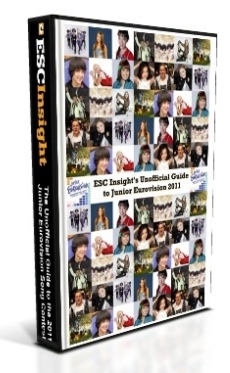 As we get ready to bring you our coverage from Armenia of this year's Junior Eurovision Song Contest, it's time to look over the countries, singers and performers who'll be singing in Yerevan.
Yes, we have had the kids of Duncan Place go through all the songs in Junior Juke Box Jury, but now it's time for the rest of the ESC Insight team to get involved and bring you all the statistics, historical data, biographies and more.
The ESC Insight Unofficial Guide to the 2011 Junior Eurovision Song Contest.
Why an Ebook?
As with our guide to the 2011 Eurovision Song Contest in May, we've pulled together information from around the internet, including the official site (www.junioreurovision.tv), Wikipedia, the artists own pages, and coverage from some of the other Eurovision sites. We always said ESC Insight was about bringing you more information that was useful to you, and our eBook guides continue that mission.
In the pages of the JESC 2011 guide, we look at the countries in turn, with information on:
The song, performer, composer and lyricist.
Biographical information.
Historical statistics for each country.
Thoughts from Ewan and Sharleen on the entry.
…and a handy space for you to take your own notes as the live show on December 3rd draws ever closer.
How to get the eBook
The ESC Insight Unofficial Guide to the 2011 Junior Eurovision Song Contest is a free download. If you'd like to share it online, we'd ask you to credit ourselves here at ESC Insight and link back to this page, rather than pointing directly to the eBook.
Download your Guide to Junior Eurovision 2011 eBook for free here.
Also available on Amazon Kindle
As well as the PDF download above, we're going to try something new and publish the Guide for Amazon Kindle. The content on Kindle is the same as the PDF, but Amazon won't let us set the price any lower than 75p (or the local currency equivalent). You can consider it a very small donation to ESC Insight, and we'll likely have enough to buy the Yerevan team a hot chocolate when it's all over.
Find you Guide to Junior Eurovision 2011 for Amazon Kindle here.