Regular ESC Insight contributor Paul Jordan is currently nearing completion of his PhD, examining issues of image building and national identity in Estonia and Ukraine. His research concentrates primarily on nation branding initiatives and the role that Eurovision played in terms of promoting and refining the international image of the respective countries concerned. In this article he discusses the role of the academic at Eurovision and the newly founded Eurovision Research Network.
The Eurovision Song Contest is an event which has a plethora of meanings for various people across the world. To many fans it's a fun, entertaining event filled with music that they love. It's also an event in which life-long friendships have been made, often with the odd spot of alcohol thrown in. For many people Eurovision also represents serious work in terms of covering the event for the masses. However there is also an increasing body of work which is looking at Eurovision and issues surrounding this event through an academic lens. Yes, say hello to a "new" addition to the Eurovision community; the Eurovision researcher!
The Eurovision Song Contest is an event which touches on issues of national identity and politics to name just a few examples and as such it is an incredibly rich source for conducting research. Until fairly recently Eurovision has lacked scholarly attention; somewhat surprising given that it has the capacity to illuminate the issues of the day. This is where the Eurovision Research Network (ERN) steps in.
The ERN was set up in 2009 to provide a platform for researchers to share ideas and dialogue and to establish future lines of communication and set the agenda for further research. Furthermore the founding of a sister network, a project sponsored by the Arts and Humanities Research Council (AHRC) which examines Eurovision and the "New Europe", shows that Eurovision as a viable academic topic for research is no longer the pipedream that it might have seemed a few years ago.
A founding principle of the ERN was that it would bring together key stakeholders involved with Eurovision in dialogue. There is a story to be told and the ERN allows that to happen. The ERN comprises of a diverse body of people including journalists, bloggers, fans and academics. The strength of the ERN lies in its diversity. One academic might be focusing on gender issues whilst another on nationalism in Europe.
In 2010, a two day symposium was held in Oslo before the Eurovision Song Contest final which saw an energetic exchange of ideas and opinions as well as providing the opportunity for ERN members to present some aspects of their research to a wider community. Furthermore the event served as an opportunity to further set the agenda for future Eurovision research.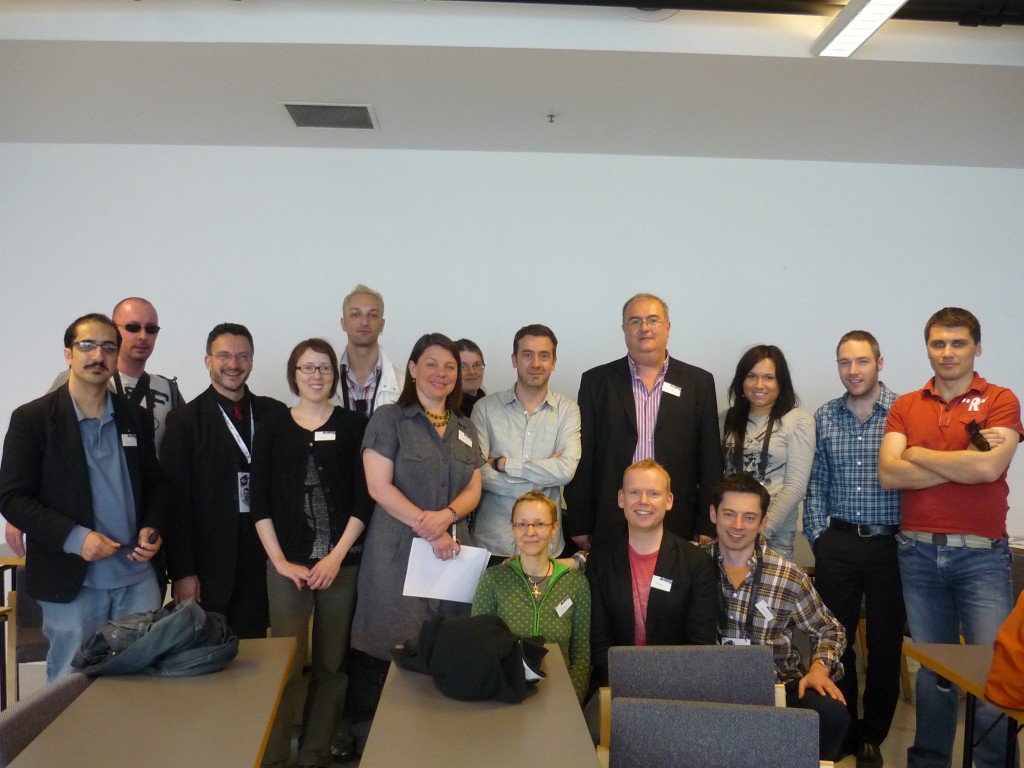 Eurovision academics gather in Oslo for the 2010 Conference
In February 2011 a "New Europe" workshop was held in London which again like in Oslo provided a platform for the exchange of ideas. The event was attended by academics as well as broadcasters from around Europe. This inaugural session, "European Margins and Multiple Modernities", according to Karen Fricker, aimed to explore the ways in which the increasing domination of the Eurovision Song Contest by new-entrant nations has reinforced – or perhaps destabilised understandings of Western and Eastern Europe.
Further workshops are now planned in Venice as well as Dusseldorf as part of the build up to Eurovision 2011 itself. The "New Europe" project will result in an edited collection which is due to be published in 2012. Furthermore the ERN will continue alongside this sister project and a variety of events are due to be confirmed in the coming weeks including the official premier of the forthcoming documentary produced by Electric Pictures, "The Secret History of the Eurovision Song Contest" in Dusseldorf.  
My own foray into Eurovision research was borne out of my undergraduate dissertation. I wrote my undergraduate history dissertation in 2005 on Estonia and the significance of singing as part of the national identity and indeed the relevance of Eurovision in the context of the "return to Europe". My supervisor had great foresight and encouraged me to take this further and apply for a Masters scholarship and then go onto take my research interests to a PhD. I did this, to be honest not really thinking that I would get the nod however I did I'm now on the cusp of submitting my final PhD thesis.
My "Eurovision" PhD examines issues of national identity, nation branding and image building in Estonia and Ukraine as well as examining the role that Eurovision plays in this. The journey has been immense but for me what has been truly fascinating is meeting and working with people who are all looking at Eurovision from an academic perspective. Little did I realise there was not only a burgeoning community of academics working on Eurovision but that I would be one of them!
---
You can find out more about the ERN and Eurovision research more generally at
www.eurovisionresearch.net